---
STM32F413ZH MCU Discovery 套件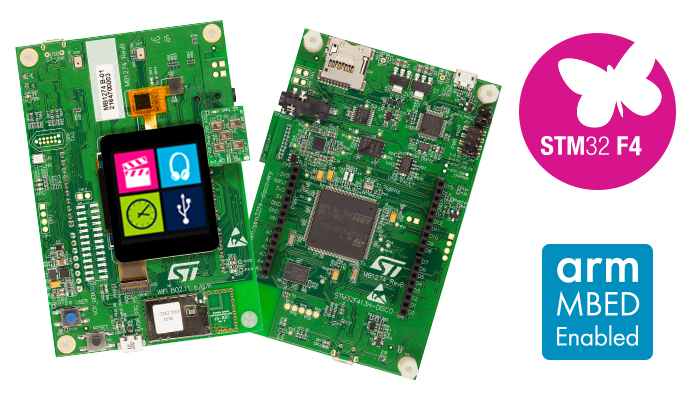 32F413HDISCOVERY - Discovery kit with STM32F413ZH MCU
貨號 STM32F413H-DISCO
售價 999,999,999 (未稅)
含營業稅 1,049,999,998.95元
廠商庫存 0
原始網址: http://www.st.com/content/st_com/en/products/evaluation-tools/product-evaluation-tools/mcu-eval-tools/stm32-mcu-eval-tools/stm32-mcu-discovery-kits/32f413hdiscovery.html
The 32F413HDISCOVERY Discovery kit allows users to develop applications with the STM32F4 Series microcontrollers based on ARM®Cortex®-M4 core.
The 32F413HDISCOVERY Discovery kit enables a wide diversity of applications, taking benefit from audio, multi-sensor support, graphics, security, video and high-speed connectivity features.
The Arduino™ Uno V3 connectivity support provides unlimited expansion capabilities with a large choice of specialized add-on boards.
Key Features
STM32F413ZHT6 microcontroller featuring 1.5 Mbytes of Flash memory and 320 Kbytes of SRAM, in LQFP144 package
On-board ST-LINK/V2-1 supporting USB re-enumeration capability
USB ST-LINK functions:

Virtual COM port
Mass storage
Debug port

240x240-pixel LCD with parallel interface and touch-panel connector
8-Mbit PSRAM; 512K word x 16bits
128-Mbit Quad-SPI Flash memory
I2 S audio codec
Jack connector for Audio line with microphone input and stereo output
Two on-board ST-MEMS microphones
Connector extension for up to 5-MEMS microphones.
USB OTG FS with Micro-AB connector
Connector for microSD™ card
Integrated Wi-Fi® module 802.11 b/g/n
Two push-buttons (user and reset)
Two user LEDs: one green and one red
Arduino™ Uno V3 connectors
Four power supply options:

ST LINK/V2-1
USB FS connector
5 V from Arduino™ Uno V3
USB charger

Comprehensive free software including a variety of examples, part of the STM32Cube package
Support of a wide choice of integrated development environments
IMAGE
RESOURCES
Technical Documentation
Product Specifications
| | Description | Version | Size |
| --- | --- | --- | --- |
| | DB3097: Discovery kit with STM32F413ZH MCU | 2.0 | 369 KB |
Technical Notes & Articles
| | Description | Version | Size |
| --- | --- | --- | --- |
| | TN1235: Overview of the ST-LINK embedded in STM32 MCU Nucleo, Discovery Kits and Eval Boards | 1.0 | 155 KB |
User Manuals
| | Description | Version | Size |
| --- | --- | --- | --- |
| | UM2135: Discovery kit with STM32F413ZH MCU | 1.0 | 1 MB |
| | UM2052: Getting started with STM32 MCU Discovery Kits software development tools | 1.0 | 1 MB |
Presentations & Training Material
Presentations
| | Description | Version | Size |
| --- | --- | --- | --- |
| | STM32 Development Boards Portfolio | 1.0 | 3 MB |
Hardware Resources
Board Manufacturing Specifications
| | Description | Version | Size |
| --- | --- | --- | --- |
| | STM32F413H-DISCO gerber files | 1.1 | 2 MB |
Bill of Materials
| | Description | Version | Size |
| --- | --- | --- | --- |
| | STM32F413H-DISCO BOM | 1.1 | 162 KB |
Schematic Pack
| | Description | Version | Size |
| --- | --- | --- | --- |
| | STM32F413H-DISCO schematics (in Altium designer format) | 1.1 | 13 MB |
Publications and Collaterals
Flyers
| | Description | Version | Size |
| --- | --- | --- | --- |
| | STM32 for makers - Releasing your creativity | 18.01 | 1 MB |
| | STM32F401/10/11/12/13 - High-performance Access lines | 17.04 | 1 MB |
Brochures
| | Description | Version | Size |
| --- | --- | --- | --- |
| | STM32 32-bit MCU family - Leading supplier of Arm® Cortex®-M microcontrollers | 18.02 | 2 MB |
Legal
License Agreement
| | Description | Version | Size |
| --- | --- | --- | --- |
| | Evaluation products license agreement | 1.4 | 128 KB |
| | Open Reference Material License Agreement v5 | | 42 KB |
TOOLS AND SOFTWARE
Development Tools
SOFTWARE DEVELOPMENT TOOLS
| Part Number | Manufacturer | Description |
| --- | --- | --- |
| ST-LINK-SERVER | ST | ST-LINK server software module |
| STSW-LINK007 | ST | ST-LINK, ST-LINK/V2, ST-LINK/V2-1 firmware upgrade |
| STSW-LINK009 | ST | ST-LINK, ST-LINK/V2, ST-LINK/V2-1 USB driver signed for Windows7, Windows8, Windows10 |
Embedded Software
MCUS EMBEDDED SOFTWARE
| Part Number | Manufacturer | Description |
| --- | --- | --- |
| STM32CubeF4 | ST | STM32Cube MCU Package for STM32F4 series (HAL, Low-Layer APIs and CMSIS (CORE, DSP, RTOS), USB, TCP/IP, File system, RTOS, Graphic - coming with examples running on ST boards: STM32 Nucleo, Discovery kits and Evaluation boards) |
| X-CUBE-AWS | ST | AWS IoT software expansion for STM32Cube (UM2178) |
| X-CUBE-AZURE | ST | Microsoft Azure software expansion for STM32Cube |
| X-CUBE-CLD-GEN | ST | Generic IoT cloud software expansion for STM32Cube |
| X-CUBE-WATSON | ST | IBM Watson software expansion for STM32Cube |