---
BLE 藍牙 4.0, ANT 及 2.4GHz 開發及測試開發工具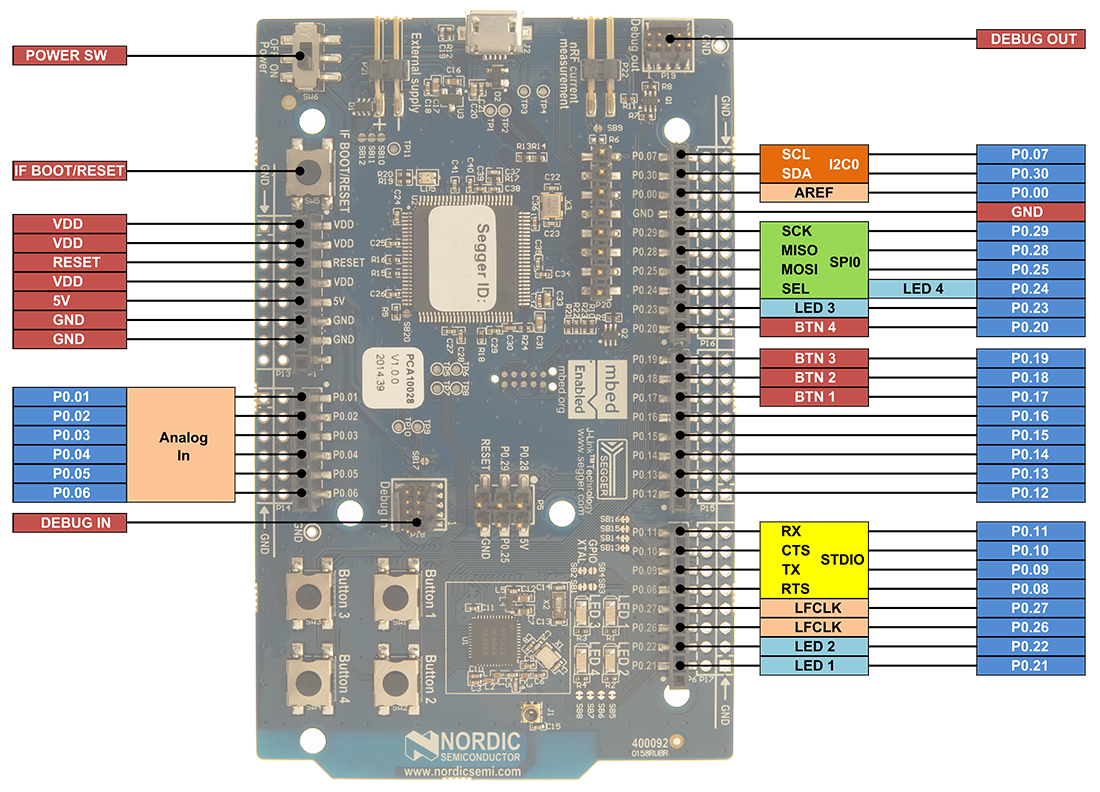 Development Kit for Bluetooth low energy, ANT and 2.4GHz applications
貨號 nRF51-DK
售價 1,700 (未稅)
含營業稅 1,785元
廠商庫存 0
原始網址: https://www.nordicsemi.com/Products/nRF51-DK
nRF51 DK 是一款低成本,多功能的單板開發套件,適用於使用 nRF51 系列 SoC 的藍牙 ®低功耗,ANT 和 2.4GHz 專有應用。該套件支持 nRF51822,nRF51824 和 nRF51422 SoC 的開發。
該套件與Arduino Uno Revision 3標準硬件兼容,因此可以使用與該標準兼容的第三方防護罩。
它支持使用 Keil,IAR 和 GCC 的標準 Nordic 軟件開發工具鏈,還支持 ARM mbed 工具鏈,使用 mbed 的基於雲的 IDE 和具有廣泛開放性的工具鏈進行快速原型設計和開發。源軟件庫。套件上的程序 / 調試選項包括用於標準工具鏈的 Segger J-Link OB 和用於 mbed 的 CMSIS-DAP。該套件可通過連接器訪問所有 I / O 和接口,並具有 4 個 LED 和 4 個用戶可編程按鈕。
除了標準的 nRF51 系列開發之外,該開發套件還可以作為一種有用且極具成本效益的藍牙低能量數據包嗅探器,使用 Nordic nRF Sniffer 軟件,可以捕獲和分析與藍牙低能耗通信相關的詳細數據。使用主仿真器固件和主控制面板軟件,可以設置可用於測試應用程序連接的對等設備。
軟件支持
Nordic Semiconductor 協議棧稱為 SoftDevices。 SoftDevices 是預編譯的預鏈接二進製文件。 SoftDevices 可以在 nRF51 系列 SoC 中編程,可從北歐網站下載.nRF51 DK 支持所有 Nordic SoftDevices(點擊下面的圖標了解詳情)。 nRF51 DK 支持 nRF51 SDK,它為藍牙低功耗,ANT 和 2.4GHz 專有應用提供廣泛的軟件支持和完整示例。
讓高級戰術營銷經理約翰倫納德為您提供 nRF51 DK 的試運行
特徵
低成本單板開發套件,支持藍牙低功耗,ANT 和 2.4GHz
Arduino Uno 盾兼容
ARM 已啟用 mbed
邊緣連接器上提供所有 GPIO 和接口
Segger J-Link OB 和 ARM 板載 CMSIS-DAP 程序 / 調試
內容
1 個 nRF51 DK 開發套件板
5 x nRF51422 樣品
1 個 CR2032 電池
支持的產品 / 互補
The nRF51 DK is a low-cost, versatile single-board development kit for Bluetooth® low energy, ANT and 2.4GHz proprietary applications using the nRF51 Series SoC. This kit supports development for both nRF51822, nRF51824 and nRF51422 SoCs.
The kit is hardware compatible with the Arduino Uno Revision 3 standard, making it possible to use 3rd-party shields that are compatible to this standard with the kit.
It supports the standard Nordic Software Development Tool-chain using Keil, IAR and GCC,there is also support for the ARM mbed tool-chain for rapid prototyping and development using mbed's cloud-based IDE and tool-chain with an extensive range of open-source software libraries. Program/Debug options on the kit are Segger J-Link OB for standard tool-chain and CMSIS-DAP for mbed. The kit gives access to all I/O and interfaces via connectors and has 4 LEDs and 4 buttons which are user-programmable.
In addition to standard nRF51 Series development, the development kit can be used as a useful and highly cost-effective Bluetooth low energy packet sniffer using Nordic nRF Sniffer software allowing detailed data related to Bluetooth low energy communication to be captured and analyzed. Using the Master Emulator firmware and the Master Control Panel Software it enables setting up of a peer device that you can use to test the connection of your application.
Software Support
Nordic Semiconductor protocol stacks are known as SoftDevices. SoftDevices are pre-compiled, pre-linked binary files. SoftDevices can be programmed in nRF51 series SoCs and are downloadable from the Nordic web.The nRF51 DK supports all Nordic SoftDevices (click on the icons below for details). The nRF51 DK supports the nRF51 SDK which provides extensive software support and complete examples for both Bluetooth low energy, ANT and 2.4GHz proprietary applications.
Let Senior Tactical Marketing Manager, John Leonard give you a run-through of the nRF51 DK
Features
Low cost single board development kit supporting Bluetooth low energy, ANT and 2.4GHz
Arduino Uno shield compatible
ARM mbed enabled
All GPIO and interfaces available at edge connectors
Segger J-Link OB and ARM mbed CMSIS-DAP Program/Debug on board
Content
1 x nRF51 DK development kit board
5 x nRF51422 samples
1 x CR2032 battery
Supported products/complementary
| | |
| --- | --- |
| Product | Brief description |
| nRF5 SDK for Mesh | Software Development Kit for Bluetooth mesh solutions using nRF51 Series and nRF52 Series |
| nRF51 Dongle | Bluetooth Smart/ANT/2.4GHz Development dongle |
| nRF5 SDK | Software Development Kit for nRF51 and nRF52 Series |
| nRF51 IoT SDK | IoT Software Development Kit (SDK) for applications using IPv6 over Bluetooth low energy |
| nRF5 SDK for HomeKit | Software Development Kit for HomeKit solutions |
| nRF51822 | Bluetooth low energy and 2.4GHz proprietary multiprotocol Soc |
| nRF51824 | Automotive grade Bluetooth low energy SoC |
| nRF51422 | ANT and ANT/Bluetooth low energy multiprotocol SoC |
| nRFready Smart Remote 3 for nRF51 Series | Advanced Bluetooth low energy enabled remote control reference design with voice input |
| nRF Sniffer | Low cost Bluetooth low energy packet sniffer |
| Power Profiler Kit | Current measurement tool for embedded development |