---
用於 Azure Sphere MT3620 開發套件的 Grove 入門套件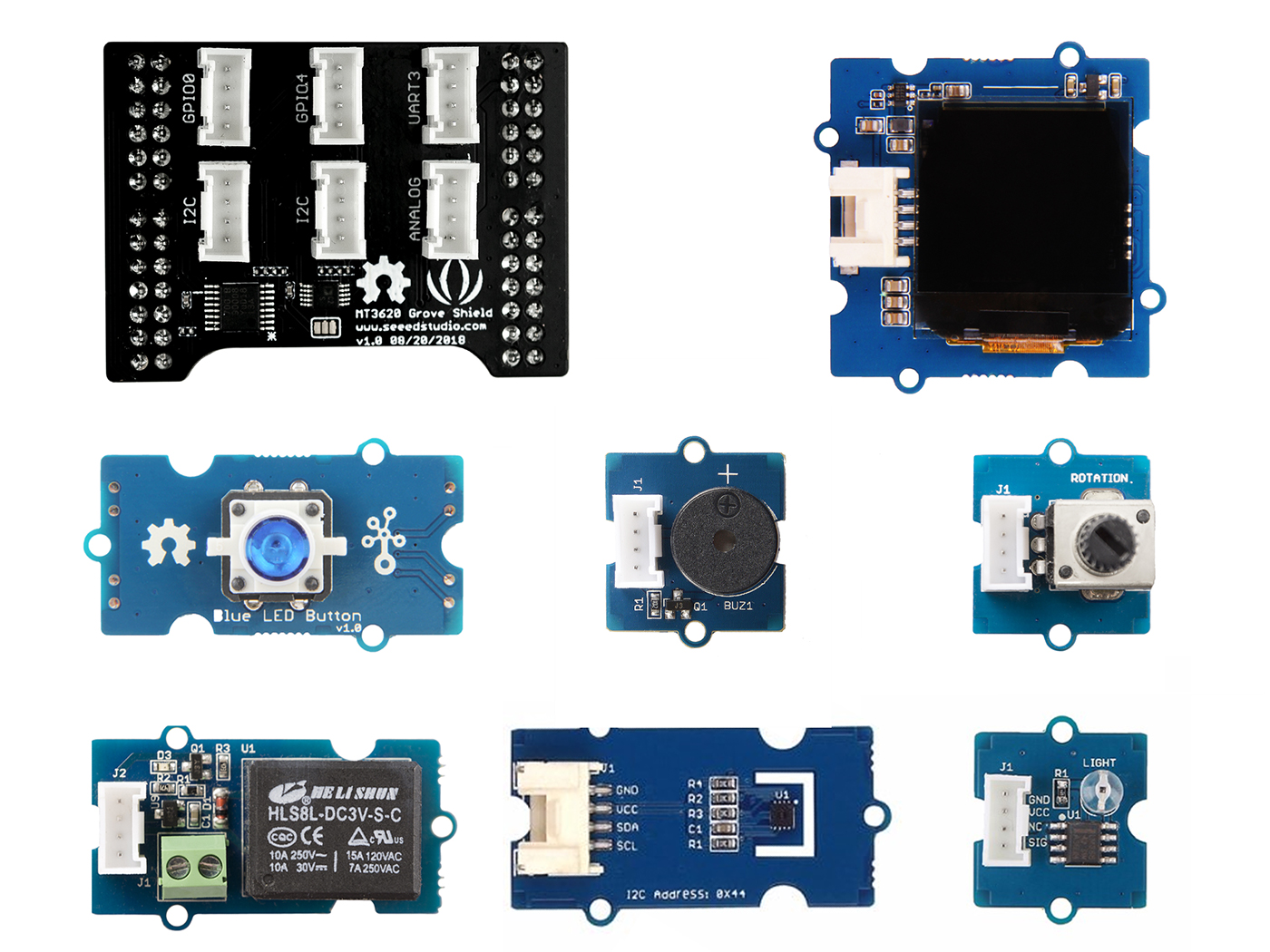 Grove Starter Kit for Azure Sphere MT3620 Development Kit
貨號 110060947
售價 2,005.08 (未稅)
含營業稅 2,105.33元
廠商庫存 0
原始網址: https://www.seeedstudio.com/Grove-Starter-Kit-for-Azure-Sphere-MT3620-Development-Kit-p-3150.html
描述
該產品是Azure Sphere MT3620 開發套件的基本入門套件 。該套件集成了 SeeedStudio 最受歡迎的即用型模塊 - Grove ,旨在幫助開發人員快速入門並體驗 Azure Sphere 解決方案。
請注意, Azure Sphere MT3620 開發套件是必需的,但不包含在此入門套件中 。你可以在這裡購買。
Microsoft Azure Sphere 是一種用於創建高度安全,連接,MCU 驅動的設備的解決方案。 Azure Sphere 匯集了 Microsoft 在雲,軟件和芯片方面的最佳專業知識,從而形成了一種獨特的安全方法,從矽片開始並擴展到雲端。 Azure Sphere 認證的 MCU,Azure Sphere OS 和 Azure Sphere 安全服務共同為您提供重新構想業務和創造未來的信心和力量。
該套件包括一個MT3620 Grove 護罩 ,提供:
1 x UART
2 個 I2C
1 x 模擬
4 x GPIO
以及幾個類別中的 6 個 Grove 模塊:

---
技術細節
| | |
| --- | --- |
| 外形尺寸 | 200 毫米 x 130 毫米 x 50 毫米 |
| 重量 | GW 200 克 |
| 電池 | 排除 |
零件清單
| | |
| --- | --- |
| MT3620 Grove Shield | 1 |
| Grove - 旋轉角度傳感器 | 1 |
| Grove - Temp&Humi 傳感器(SHT31) | 1 |
| 格羅夫 - 接力 | 1 |
| Grove - OLED Display 1.12''V2 | 1 |
| 格魯夫 - 蜂鳴器 | 1 |
| Grove - 藍色 LED 按鈕 | 1 |
| Grove - 光傳感器 v1.2 | 1 |
ECCN / HTS
| | |
| --- | --- |
| ECCN | EAR99 |
| HSCODE | 9023009000 |
Description
This product is a basic starter kit for Azure Sphere MT3620 Development kit. The kit integrates SeeedStudio's most popular ready-to-use modular – Grove, aims at helping developers get started quickly and experience the Azure Sphere solutions.
Please note that Azure Sphere MT3620 Development kit is required but not included in this Starter kit.  You can purchase it here. 
Microsoft Azure Sphere is a solution for creating highly-secured, connected, MCU-powered devices. Azure Sphere brings together the best of Microsoft's expertise in cloud, software and silicon—resulting in a unique approach to security that starts in the silicon and extends to the cloud. Together, Azure Sphere certified MCUs, the Azure Sphere OS, and the Azure Sphere Security Service provide you with the confidence and the power to reimagine your business and create the future.
The kit includes one MT3620 Grove shield, which offers:
1 x UART 
2 x I2C 
1 x Analog 
4 x GPIO 
and 6 Grove modules in several catagories:

---
Technical Details
| | |
| --- | --- |
| Dimensions | 200mm x 130mm x 50mm |
| Weight | G.W 200g     |
| Battery | Exclude |
Part List
| | |
| --- | --- |
| MT3620 Grove Shield | 1 |
| Grove - Rotary Angle Sensor | 1 |
| Grove - Temp&Humi Sensor(SHT31) | 1 |
| Grove - Relay | 1 |
| Grove - OLED Display 1.12'' V2 | 1 |
| Grove - Buzzer | 1 |
| Grove - Blue LED Button | 1 |
| Grove - Light Sensor v1.2 | 1 |
ECCN/HTS
| | |
| --- | --- |
| ECCN | EAR99 |
| HSCODE | 9023009000 |