---
Pixy 2 CMUcam5 智能視覺傳感器
原始網址: https://www.seeedstudio.com/Pixy-2-CMUcam5-Smart-Vision-Sensor-p-3091.html
描述
Pixy2 是 Pixy 的第二個版本。它比原始 Pixy 更快,更小,更強大,增加了線跟踪 / 跟踪算法以及其他功能。
這是我們添加到 Pixy2 的內容:
Pixy2 可檢測線路,交叉點和小條形碼,用於線路跟踪機器人


改進的幀速率 - 每秒 60 幀

跟踪算法已添加到基於顏色的對象檢測中

改進和簡化了 Arduino,Raspberry Pi 和其他控制器的庫

集成光源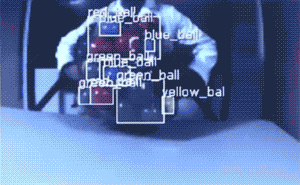 當然,Pixy2 可以完成原始 Pixy 可以做的所有事情:

小巧,快速,易於使用,低成本,易於使用的視覺系統


學會檢測你教的對象

使用附帶的電纜連接到 Arduino。也適用於 Raspberry Pi,BeagleBone 和類似的控制器

提供 Arduino,Raspberry Pi 等所有庫

支持 C / C ++ 和 Python

通過以下幾種接口之一進行通信:SPI,I2C,UART,USB 或模擬 / 數字輸出

配置實用程序在 Windows,MacOS 和 Linux 上運行

所有軟件 / 固件都是開源 GNU 許可的

提供所有硬件文檔,包括原理圖,材料清單,PCB 佈局等
典型功能概述

七種顏色簽名

數以百計的物品

教它你感興趣的對象

Pixy2 "跟踪" 它檢測到的每個對象

色標

檢測和跟踪線

檢測交叉口和 "分支"
---
技術細節
外形尺寸
42 毫米 x 38 毫米 x 15 毫米
重量
GW 20g 淨重 10g
電池
排除
處理器
恩智浦 LPC4330,204 MHz,雙核
圖像傳感器
Aptina MT9M114,1296×976 分辨率,集成圖像流處理器
鏡頭視野
水平 60 度,垂直 40 度
能量消耗
140 mA 典型值
電源輸入
USB 輸入(5V)或非穩壓輸入(6V 至 10V)
內存
264K 字節
閃
2M 字節
可用的數據輸出
UART 串行,SPI,I2C,USB,數字,模擬
集成光源,約 20 流明
零件清單
| | |
| --- | --- |
| Pixy 2 CMUcam5 圖像傳感器 | 1 |
| FC-10P 到 FC-6P 電纜 | 1 |
| 螺絲包裝 | 1 |
Description
Pixy2 is the second version of Pixy. It's faster, smaller and more capable than the original Pixy, adding line tracking/following algorithms as well as other features. 
Here's what we've added to Pixy2:
Pixy2 detects lines, intersections and small barcodes, intended for line-following robots


Improved framerate – 60 frames-per-second

Tracking algorithms have been added to color-based object detection

Improved and simplified libraries for Arduino, Raspberry Pi and other controllers

Integrated light source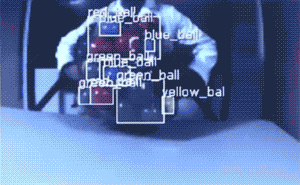 And of course, Pixy2 does everything that the original Pixy can do:

Small, fast, easy-to-use, low-cost, readily-available vision system


Learns to detect objects that you teach it

Connects to Arduino with included cable. Also works with Raspberry Pi, BeagleBone and similar controllers

All libraries for Arduino, Raspberry Pi, etc. are provided

C/C++ and Python are supported

Communicates via one of several interfaces: SPI, I2C, UART, USB or analog/digital output

Configuration utility runs on Windows, MacOS and Linux

All software/firmware is open-source GNU-licensed

All hardware documentation including schematics, bill of materials, PCB layout, etc. are provided
Typical Functions Overview

Seven color signatures

Hundreds of objects

Teach it the objects you're interested in

Pixy2"tracks"each object it detects

color code

Detecting and tracking lines

Detecting Intersections and"branching"
---
Technical Details
Dimensions
42mm x 38mm x 15mm
Weight
G.W 20g    N.W 10g
Battery
Exclude
Processor
NXP LPC4330, 204 MHz, dual core
Image sensor
Aptina MT9M114, 1296×976 resolution with integrated image flow processor
Lens field-of-view
60 degrees horizontal, 40 degrees vertical
Power consumption
140 mA typical
Power input
USB input (5V) or unregulated input (6V to 10V)
RAM
264K bytes
Flash
2M bytes
Available data outputs
UART serial, SPI, I2C, USB, digital, analog
Integrated light source, approximately 20 lumens
Part List
| | |
| --- | --- |
| Pixy 2 CMUcam5 Image Sensor | 1 |
| FC-10P to FC-6P Cable | 1 |
| Screw Package | 1 |